Having a dream wedding dress is an exciting and memorable milestone in planning for your big day. There's nothing quite like having the perfect combination of fabric, cut, style, and embellishments to make you feel confident and beautiful on what could be one of the most important days of your life. But once you've chosen that perfect gown, the designing phase comes, including several rounds at fittings! Getting fit can often rouse up mixed emotions, while even more excitement will pulse through you when it gets closer to being complete. To help make things as smooth (and perhaps fun!) as possible, we'll share some tips & tricks for making sure your first wedding dress fitting is everything you imagined it would be!
A bride's first wedding dress fitting: what to expect
Now that you have your dress of choice, it's time for the all-important wedding dress fitting. It can be overwhelming and intimidating—especially if this is your first time trying on a wedding gown. Here are some tips and tricks to help make your experience as smooth as possible: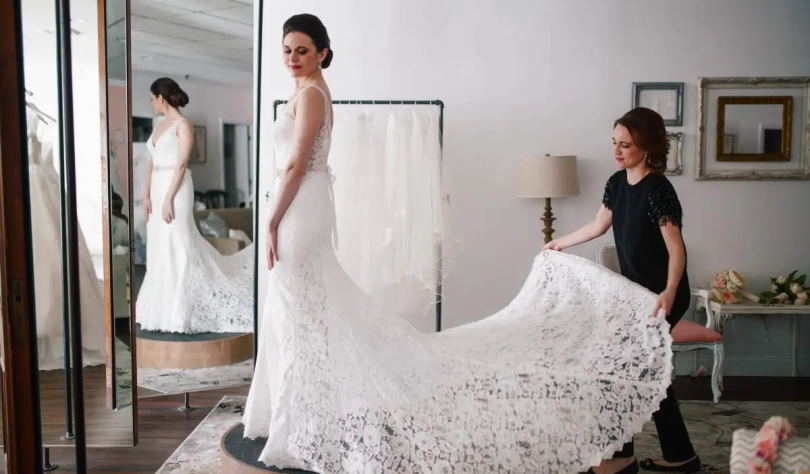 Schedule a Fitting Early – Once you've chosen your dream gown, you must schedule an appointment with an experienced bridal shop or seamstress immediately. This will ensure that you are able to get a good fit before the big day arrives and also give you plenty of time for any alterations that may need to be done.
Wear Undergarments – As much as you want the dress to fit you perfectly, it's important to remember that your outerwear and undergarments will also affect how the dress fits. Be sure to wear proper undergarments, such as a strapless bra or shapewear, when trying on your gown.
Bring Accessories – When you try on the dress, it helps to have accessories such as shoes and jewelry with you so that you can get an idea of what the entire look will be like on your wedding day. Don't forget to bring any items that may need alterations too, such as veils or gloves.
Take Notes – During your fitting, take note of any small tweaks or adjustments that need to be made so that you can discuss them with the seamstress or tailor. It's also helpful to take pictures of yourself in the dress for reference later on.
Following these tips, you should have a great experience when it comes time for your wedding dress fitting. With a little bit of preparation, you will be sure to look and feel your absolute best on your special day.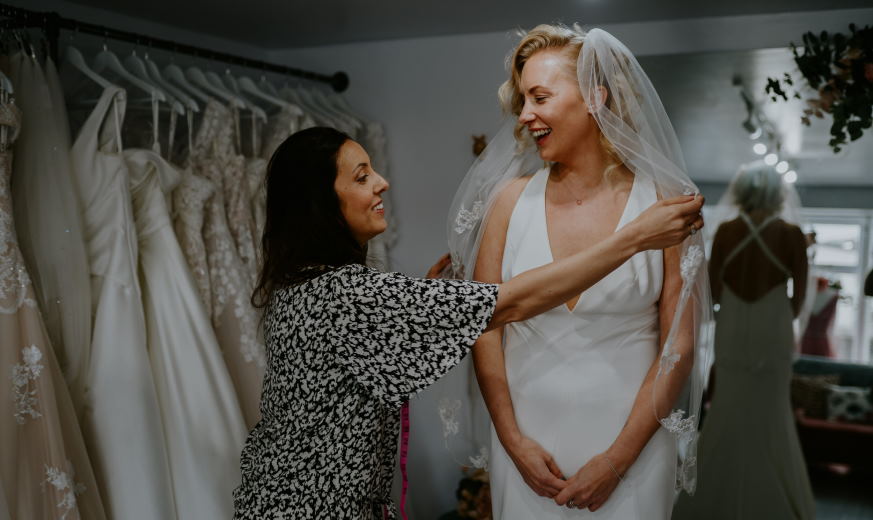 Achieve the perfect fit with these dress-fitting tips
Start with the right size – It is essential to start dress shopping with a good idea of your body measurements. Get an accurate measurement of your bust, waist, and hips before heading out to ensure that you can pick pieces in the right size.
Look for quality fabric – When trying on dresses, take a moment to feel the fabric and check how it hangs on your body. Quality fabrics such as silk or cotton will not only fit better but they'll also last longer than cheaper materials.
Consider alterations – Many dresses need alterations, especially since sizes vary from store to store and designer to designer. Always look for pieces with room for alteration, and make sure you budget for them.
Make sure it moves with you – The dress should be comfortable and move with your body when you walk, sit, or dance. It is important to ensure the fit remains consistent throughout your movements.
Pay attention to proportions – It is important to focus on how the dress looks from all angles. For example, try a different size or style if one side looks too tight or baggy.
Don't forget about accessories – Accessories like belts can add shape and structure to an otherwise plain dress, so experiment with different styles and see what works best for you!
Get help from a friend – Ask a friend whose opinion you trust to give you their honest opinion on how the dress looks and fits. Having a second opinion can make all the difference when it comes to finding the perfect fit!
Following these tips will help you find dresses that fit you perfectly, so don't be afraid to experiment with different styles and sizes until you find one that works for your body type. By taking time to get the right size and accessorize accordingly, you'll be sure to look fabulous in any dress!