Picking out the perfect wedding dress is an exciting process, but it can be overwhelming when you don't know where to start. Every bride dreams of finding a dress that embodies her style and makes her feel beautiful on her special day. Whether you're looking for a timeless classic or something with a bit more sparkle, countless styles and fabrics are available to make your dream come true. Here we provide tips and tricks on what to look for to find the wedding dress that fits perfectly into your vision. From creating a budget to choosing accessories, these helpful pointers will take the stress out of the shopping process so you can focus on finding "the one"—your ideal bridal gown!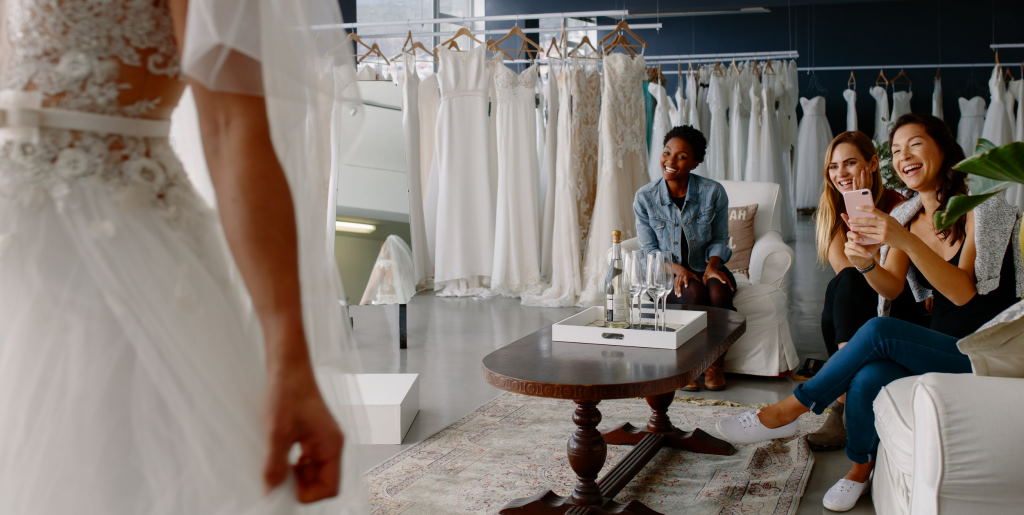 The ultimate wedding dress shopping guide
Set a Budget: Before going shopping for your dream gown, determine an overall budget, so you don't overspend on your special day. Be realistic about what you can afford and stick to your budget when looking at dresses.
Know Your Style: What type of dress do you like? Do you prefer traditional designs or something more modern? Think of silhouettes and styles that appeal to your taste and look good on your body shape. Also, consider the venue and theme of your wedding when choosing a dress.
Try on Different Styles: Be bold and try on different styles of dresses, even if they don't seem like something you would normally wear. You may find that a certain style looks better than you expected or gives you a better idea of what kind of dress will look best for your body type and event. Also, take pictures when trying on gowns so you can compare them later!
Ask For Help: Shopping for a wedding dress can be overwhelming sometimes, so don't be afraid to ask for help from friends and family or even an experienced sales person in the store. They can help you narrow down your choices and provide helpful insight that can make the process much easier.
Take Your Time: Take your time finding your perfect dress because this is an important decision. Take your time, try on various dresses, and take pictures of each so you can compare them later and make sure you make the best decision for yourself.
Finding the perfect wedding dress doesn't have to be stressful or overwhelming if you follow these tips! With some planning and preparation, you can easily find the gown of your dreams that will look stunning as you walk down the aisle on your special day.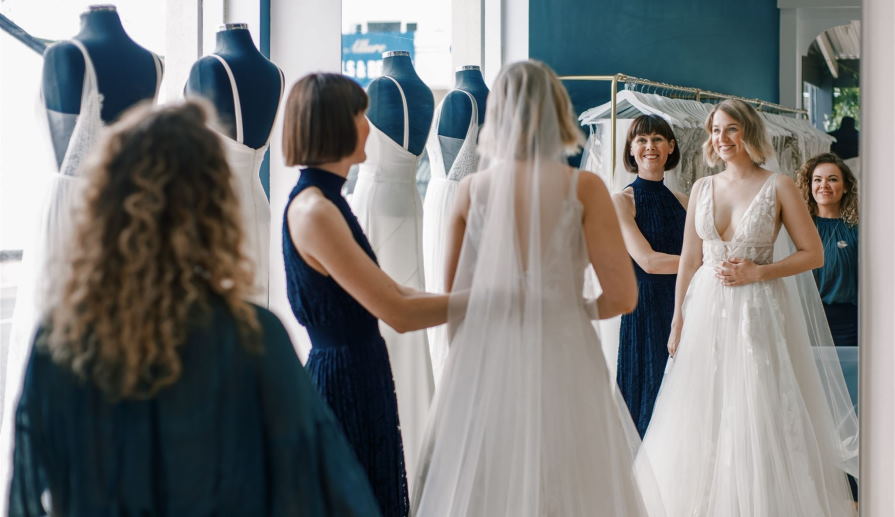 The worst things about wedding dress shopping you should know
Most wedding gowns range from several hundred to thousands of dollars, so this adds up quickly. You may also have to pay for alterations or special customization, which can add up. Depending on the designer and style of dress, you may find yourself exceeding your original budget. Another con to wedding dress shopping is that it takes time and energy. You will likely need to visit multiple stores to find the perfect dress, which means making appointments and spending hours trying different styles and fabrics. Lastly, you may feel overwhelmed by all the options available when shopping for a wedding dress—from designers to colors to silhouettes! With so many choices, it's easy to become overwhelmed and have difficulty deciding.
No matter the cons to wedding dress shopping, the joy of finding the perfect dress makes it all worth it! With proper planning and preparation, you can find the dream gown that compliments your body type and wedding theme. Plus, with websites like Etsy selling pre-owned dresses at discounted prices, you may save money. If you take your time, ask questions, and stay within your budget—dress shopping can be an enjoyable experience for everyone involved! So don't let the cons of wedding dress shopping discourage you—go out there and start looking for your dream gown!