Check out these lovely ombré wedding nail ideas- perfect for brides looking to add an elegant touch of color and glamour to their special day. From soft pastel shades that are sure to catch the light to bolder hues that will make a statement, there's something in this collection for everyone! With the right combination of products and know-how, you can get creative with your nails and bring them alive – just how you want them on your big day. Whether a timeless French mani or something more daring like chrome covering each fingertip, we have some truly stunning looks that will look chic no matter what dress or bouquet you choose!
Ombré wedding nails that will make you swoon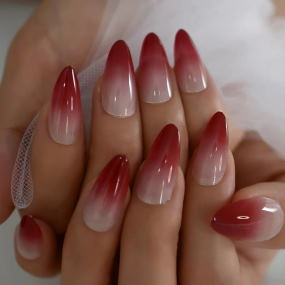 If you're looking for wedding nails that make a statement, ombré wedding nails are the way to go. Ombré nails have been popular since the early 2000s and remain fashionable today. This look is perfect if you want something subtle yet eye-catching for your big day. With an ombré nail design, you can combine several shades of one color or multiple colors to create a beautiful gradient effect on your nails. With glittery sheen, matte finish, or even holographic accents, ombré wedding nails will give you that extra sparkle on your special day! Prepping the nails and applying a base color to recreate this stunning look at home. Then, you can use make-up sponges to create the gradient effect with the other colors, adding more layers for a deeper shade. Finally, to finish off your ombré wedding nails, apply a top coat for extra shine. With this simple technique, you'll have an eye-catching manicure that will make heads turn on your big day!
Wedding nails: the ultimate guide to ombre nails
Ombre nails are a beautiful and modern way to add pizzazz to your wedding look. They're a great choice for brides who want something special and unique but don't want to go overboard with over-the-top nail art. Ombre nails blend two or more nail polish colors, creating a gradient or "ombre" effect. This style looks stunning on almonds, coffins, stilettos, and even square-shaped nails. If you're looking for an on-trend manicure that won't clash with your gown or accessories, ombre nails might be perfect! Here's our ultimate guide to getting the perfect ombre nails for your wedding day.
First, decide on the colors you'd like to use. Choose a light shade at one end and a darker shade at the other, or choose two shades of the same color that complement each other. Additionally, some people opt for a subtle ombre look by using three similar shades of the same hue. Once your colors are picked out, it's time to start!
Begin by applying a base coat to your nails and allowing them to dry completely before moving onto step two. Next, apply the lighter color to all your nails and allow them to dry before continuing with step three. Now take the next shade in your chosen gradient and apply it starting from about one quarter down your nail. Then, use a clean cotton bud or brush to blend the colors. Be sure to work quickly, as you don't want the polish to dry before it is blended properly. Finally, finish with a top coat and allow everything to dry before sporting your beautiful ombre nails at your wedding!
Following this straightforward guide, you can achieve stunning ombre nails that are perfect for any bridal look. Remember to bring along a few extra nail polish colors just in case you need them during touch-ups at the venue! Have fun creating, and enjoy being pampered on your special day!